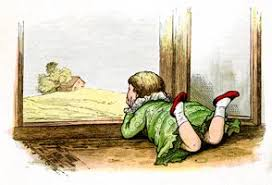 Swinging watches.  Mind control.  Squawking like a chicken.  "You are getting veeeeeery sleeeepy…."  Captain Underpants.
Many people's impressions of hypnosis come from a combination of cartoons, silly movies, and stage hypnotists.
The truth is, however, that hypnosis is both more conventional and more exciting than its reputation suggests.
What is hypnosis?  
Hypnosis might be better described as guided daydreaming.  It is a technique in which a state of deeply focused awareness, also called trance, makes a person more receptive to ideas and images.  Clinical hypnosis involves the use of this focused state to decrease symptoms.
Many people who use this technique say that "all hypnosis is self-hypnosis."   The hypnotist works to steer the patient's imagination in a particular direction, but the patient keeps control of his or her imagination and provides his or her own imagery.  One of the goals of clinical hypnosis is to teach patients how to self-hypnotize, without the presence of the hypnotherapist.
What is hypnosis good for?
Medical studies have found that hypnosis is an effective treatment for a variety of conditions, including migraines, high blood pressure, and even warts!  Hypnosis is especially useful in gastrointestinal disorders, for symptoms including irritable bowel syndrome (IBS), chronic abdominal pain, and nausea.  Researchers in Europe have shown that among children with IBS or chronic abdominal pain, over 80% have resolution of their GI problems with hypnosis.
Could my child benefit from hypnosis?
The short answer: maybe.
Clinical hypnosis is only effective when  the patient acknowledges  a problem and is receptive to the idea of hypnosis.  If your child does not feel that his or her symptom is a problem, or does not want to participate in a hypnosis session, this technique will not be effective.
How long does it take?
In our practice, typical hypnosis appointments are 40 minutes long.  However, if your child needs a longer session, we will gladly adjust the appointment length.
Sessions are usually scheduled about 2 weeks apart.
Some symptoms resolve very quickly, in 1 or 2 sessions.  Other symptoms require up to 8 sessions of treatment.
How do you know how to do this?
Dr. Cherry has been using hypnosis in her practice since 2011.  She has had extensive training through two top-tier organizations: the American Society for Clinical Hypnosis (ASCH) and the National Pediatric Hypnosis Training Institute (NPHTI).
However, as a specialist in Pediatric Gastroenterology, she limits her use of hypnosis for the treatment of GI-related disorders.
If your child also sees Dr. Cherry for conventional treatment, please note that hypnosis visits are not interchangeable with medical visits.  Questions about medication refills, lab orders, and management plans should be raised on a separate occasion.
Who else can I go to?
If you would like your child to see different providers for conventional treatment and clinical hypnosis, or if you are seeking hypnosis for a non-GI issues, we recommend Dr. Ran Anbar and his colleagues at Center Point Medicine.   Dr. Cherry also sees patients at that practice one day per week.